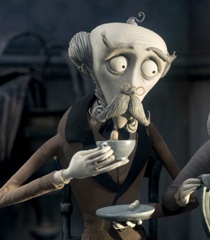 William Van Dort is a very successful owner of a fish company, as well as Victor Van Dort's father. He is married to other fish merchant, Nell Van Dort.
William is first seen getting in his horse and buggy with his wife. He was at his son, Victor, and Victoria Everglot's wedding rehearsal at the Everglot mansion.
While searching to their son, William and Nell are told that Victor has married a Corpse Bride.
William and Nell were in the woods looking for Victor when their worker, Mayhew, fell off the buggy and died, which caused them speed up and loose contral of the buggy. After finding Mayhew's corpse, William slows the buggy down but the buggy gets damaged. He appears to know that their son is not in any danger.
While leave the graveyard and make it home, they found the dead walking around town. Shortly afterwards, William and Nell likely walk to the church and see Emily standing with Victor and see her turn into butterflies.
The next day, William and Nell saw Victor and Victoria get married at their wedding. Eventually, William gave his fish company to Victor.
Personality
Edit
William is less obsessed with getting status as she is and his general nature is much more amiable and soft-spoken.
"You've certainly hooked a winner this time, Victor." - To his son, Victor Van Dort, about his marriage with a noble.
"Why... you must be Miss Victoria. Yes, I must say you don't look a day over twenty. No. Oh, yes." - To his future daughter-in-law, Victoria Everglot, at their first meeting.
"Did he say a corpse?" - A shocked William to his wife, Nell Van Dort, about the news regarding to their son.
Ad blocker interference detected!
Wikia is a free-to-use site that makes money from advertising. We have a modified experience for viewers using ad blockers

Wikia is not accessible if you've made further modifications. Remove the custom ad blocker rule(s) and the page will load as expected.