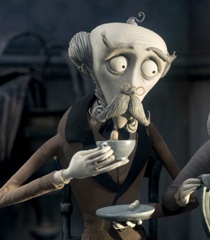 William Van Dort is Victor Van Dort's father. He is a very successful owner of a fish company. He is married to Nell Van Dort. William is less obsessed with getting status as she is and his general nature is much more amiable and soft-spoken. William is first seen getting in his horse and buggy with his wife. William was at Victor's wedding rehearsal and was at Victoria's wedding. William and Nell are told that Victor has married a Corpse Bride. William is last seen with his wife Nell in their horse and buggy as they try to find Victor. William knows Victor's not in any danger. William and Nell were in the woods looking for Victor when Mayhew falls off the buggy and dies. They speed up and loose contral of the buggy. William finds Mayhew gone, William slows the buggy down but the buggy gets damaged. They leave the graveyard and make it home. They find the dead walking around town. William and Nell walk to the church and see Emily standing with Victor. William and Nell see Emily turn into butterflies. The next day William and Nell see Victor and Victoria get married at their wedding. Wiliam gives his fish company to Victor.
Ad blocker interference detected!
Wikia is a free-to-use site that makes money from advertising. We have a modified experience for viewers using ad blockers

Wikia is not accessible if you've made further modifications. Remove the custom ad blocker rule(s) and the page will load as expected.