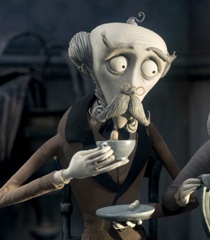 William Van Dort was Victor Van Dort's father and he was a fish-owner who invented the sushi.
William Nelson Van Dort was born on Berlín, Germany on 30 March 1771. Born to John Van Dort and Karen Van Dort. In 1775, he move to England and start a new life.
By 1781, he met Nell Van Dort and fell in love. He only had 10 years when he met his future spouse and on 21 December 1792, they have their wedding in London, England.
William and Nell always dream to have a son. They went to Iowa on 1802, to have a son on eventually 18 years left. William loose his parents on a tower but he didn't mind it.
William and Nell went to Des Moines on 1810 and on December of 1820, Victor was born on Des Moines, Iowa. At 1824, William, Nell and Victor went to England to have the wedding with Victoria Everglot (1819-1860), but she became sick. William became sick on March of 1833 and suddenly by an accident, he died on 3 November 1835.
Personality
Edit
William is less obsessed with getting status as she is and his general nature is much more amiable and soft-spoken.
"You've certainly hooked a winner this time, Victor." - To his son, Victor Van Dort, about his marriage with a noble.
"Why... you must be Miss Victoria. Yes, I must say you don't look a day over twenty. No. Oh, yes." - To his future daughter-in-law, Victoria Everglot, at their first meeting.
"Did he say a corpse?" - A shocked William to his wife, Nell Van Dort, about the news regarding to their son.
Ad blocker interference detected!
Wikia is a free-to-use site that makes money from advertising. We have a modified experience for viewers using ad blockers

Wikia is not accessible if you've made further modifications. Remove the custom ad blocker rule(s) and the page will load as expected.