Scissor Head is a resident of the Land of the Dead. His name is Grandpa. He wears a tall green top hat and overcoat of the same color. His head still has some tousled hairs. When the dead go to the Land of the Living to celebrate Victor and Emily's wedding, he's recognized by a kid that's his grandson. Scissor Head was seen at Victor and Emily's wedding and was with the mixed group of living and dead as they took Barkis down to the Land of the Dead. Grandpa and his grandson are now living together.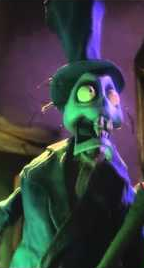 Ad blocker interference detected!
Wikia is a free-to-use site that makes money from advertising. We have a modified experience for viewers using ad blockers

Wikia is not accessible if you've made further modifications. Remove the custom ad blocker rule(s) and the page will load as expected.